プロフィール
Author:YukioMiyamoto


英国「WE ADMIRE」、「SaatchiStore」関連博物館にて Yukio Minamoto ブランドのTシャツを販売。Adobe Illustratorのアートサンプルにも使用され、関連書籍は、国内は勿論、韓国版も出版。欧米で「The Illustrator Wow! Book (Wow!)」を筆頭に多くの作品が紹介されています。映像、音楽では数々の受賞歴有り。

実は読者様へのサービスでしたが、このように米国ebayに於いてIllustratorデータを勝手に商用に使用されている事が判りました。以上のような理由からデータは終了しております。

Exhibition room is here.
展示室は、こちらです。



Yukio_MiyamotoブランドのTシャツは、こちらでお買い求め頂けます。



With over 50 years in the business, Rex is famous for its range and depth of images – be it personalities, news and features, travel, business, animal, humour, lifestyle, fashion, music, historical or stock images.
UVI:Quadra: Muted & Harmonics


I bought it because it was on sale until the end of March. Muted and Harmonics · 4-layer morphable instrument with advanced arpeggiators, MIDI FX, and more · Artful and dynamic preset library offers instant inspiration across many styles Just pay online and download. There are no physical packages, media, or instruction manuals anymore. All digital data only. If you don't get used to the authentication work, you may be a little lost, but the work is easy.

How about the essential sound?
Very nice!


[to be continue 話の続きが有るよ!ここをクリック!]
UVI Falcon2


I got UVI Falcon2 and 8 sound sources at a bargain price. It's a very great sound source. I'm studying to know how to use it.

ソフトウェアで、この価格?いえいえ、もうハードウェアが不要になる時代なのでしょうかw ソフトウェアで、これだけの音創りが可能な時代です。その音や、創造方法を知れば脅威と感じる事ができます。

[to be continue 話の続きが有るよ!ここをクリック!]
Rupert Neve 氏 2021年2月12日 逝去



1961年にNeve Electronics(現在のAMS Neve)を設立。

1970年に,
Neve#1073 H/A-EQの設計や、1974年にはNeve#1081 H/A-EQを搭載したミキシング・コンソールの#8048の設計・製造されました。Rupert Neve 氏が2021年2月12日、肺炎と心不全の為、逝去されました。94歳でした。

[to be continue 話の続きが有るよ!ここをクリック!]
ZOOM H8 Handy Recorder



ZOOM H8 Handy Recorder

I got it second hand and cheaply at the end of last year. I have a long history of outdoor recording. In the old days, it was often used as a sound source for laser discs.
I have also experienced the era of open reels, the era of cassette tapes, and the dawn of PCM recording.


[to be continue 話の続きが有るよ!ここをクリック!]
MODARTT Pianoteq 7 Standard


There was a bargain at the end of last year, and I got a piano modeling sound source, Pianoteq 7 Standard, at a low price. The new version adds morphing and layering capabilities to allow you to modify the sound quality in various ways.

Equipped with powerful tools to enhance or change the sound, such as changing the width of the unison, the hardness of the hammer, and the length of the strings. Up to 5 virtual microphones can be placed around the instrument to monitor with the binaural effect.




[to be continue 話の続きが有るよ!ここをクリック!]
TC ELECTRONIC TC2290-D



The TC ELECTRONIC TC2290-D is a digital delay plug-in and controller that recreates the classics of yesteryear, and it contains a large number of signature presets created by artists and recording engineers who are active around the world, so you can instantly recall them. ..

Uniquely, the software will not work unless the main hardware is connected. If you connect the hardware, the software will be automatically authenticated.

I bought it at Amazon US because it is more expensive in Japan than in the US. When it comes to echo, I'm particular about it.


[to be continue 話の続きが有るよ!ここをクリック!]
macOS Catalinaリリースに伴う製品対応


「Compatibility with macOS Catalina」で、確認しました。

Dear Customers.

Our virtual instruments and effects are now compatible with macOS 10.15 Catalina.

Before upgrading, please make sure your DAW, third party plug-ins and your hardware devices drivers are compatible with it as well.

Also keep in mind that 32-bits applications and plug-ins are not longer supported by MacOS Catalina.

Best regards

The Arturia team

普通、これを読んだら大丈夫だと思いますよね?




[to be continue 話の続きが有るよ!ここをクリック!]
Spectrasonics Keyscape (USB Drive) 到着


Spectrasonics Keyscape (USB Drive) を、安く購入したけれど、USBカード「B」が読み込めなくて困ったという話。本国、販売元のサポートに連絡して、とても素晴らしい対応により簡単にインストールできたのですが、その不良USB に関して、後に問題の無い製品を郵送すると聞いていました、今日、そのUSBカードが到着しました。


[to be continue 話の続きが有るよ!ここをクリック!]
Spectrasonics Keyscape (USB Drive) Omnisphere 2.6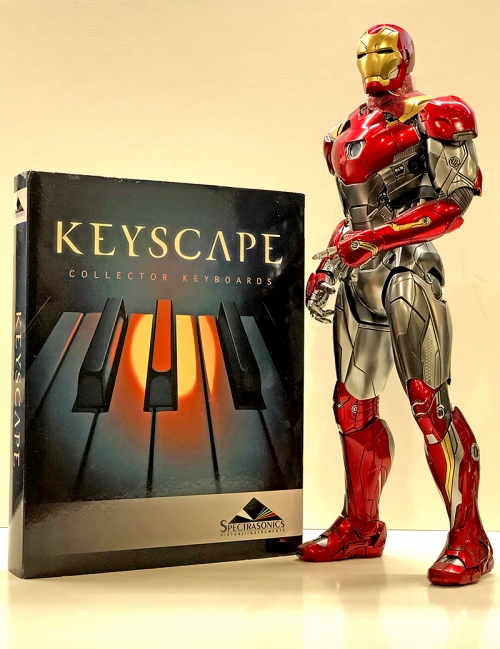 Number of recorded sounds: 629 types, I got Keyscape at half the market price! There is already Ivory II Grand Pianos as a piano sound source, and this sound source has a better piano texture.

But Keyscape has a surprisingly rare set of instruments. I think this is a valuable sound source. However, due to the huge capacity, USB installation takes a lot of time.


[to be continue 話の続きが有るよ!ここをクリック!]
Moog Mother-32


Moog Mother-32はMoog初のテーブルトップ型セミモジュラー・シンセサイザーだそうです。シンセサイザー歴?は長いのですが、moog は、一度も購入したことがありませんでした。何故なら昔から、高価だったからです(笑)基本的には、パッチングなしでもすぐに音作り、音楽制作が行えるセミモジュラー設計なので最初からパッチしないと音も出ないというわけではありません。


[to be continue 話の続きが有るよ!ここをクリック!]
KORG minilogue xd module で、 Omnisphere を操作


To control using the Korg Minilogue xd Synthesizer Module

It's great to be able to operate the parameters of SPECTRASONICS Omnisphere by operating the Korg Minilogue xd Synthesizer Module. I wanted to do this! All the knobs and switches on the Korg Minilogue xd Synthesizer Module work together to reflect the result in Omnisphere. This is convenient because the Omnisphere screen automatically switches to the effector screen when you perform effector-related operations.

Using Omnisphere intuitively is very powerful. Simply touch the waveform, envelope, and effect knobs and Omnisphere will display the screen and reflect it in the sound creation. This is the first experience that hardware and software work together like this. Great! How to To control Omnisphere using the Korg Minilogue XD.


[to be continue 話の続きが有るよ!ここをクリック!]
KORG minilogue xd module


KORG minilogue xd module I got the sound source of the hardware. Of course, it is cheap and used.

The firmware version is old so I updated it. It's been a while since I bought a Korg product. The essential sound is quite good.



[to be continue 話の続きが有るよ!ここをクリック!]
プラグイン、ソフト音源の保守管理、アップデート Lié 1.5
Universal Audio LUNA has just been introduced and is frequently updated.
ルナは、まだ登場して間もない事もあり、頻繁にアップデートが行われています。




このように、プラグインなども含めて、ソフトウエアは、常にバージョンアップを重ねている。ソフトを起動すれば、新しい情報など知らせてくれる機能も備えています。逐次、バージョンアップには対応しています。素晴らしい道具なので、その道具を使いこなす為に日々の保守管理は大切です。例え趣味でもw




[to be continue 話の続きが有るよ!ここをクリック!]
Ivory II Grand Pianos


Ivory Grand Pianos IIには...
Bösendorfer 290 Imperial Grand
German Steinway D 9' Concert Grand
Yamaha C7 Grand
以前から気になっていたのですが、2.5万円で購入できたので手に入れました。SPECTRASONIC|KEYSCAPEも候補に挙がっていたのですがピアノ主体として評判が良く、既に10年ほどの支持もあるので使ってみようと思いました。とは言っても、クラッシクピアノを習った訳でもないので、本当のピアノに関しては良く判りませんw


[to be continue 話の続きが有るよ!ここをクリック!]
Bob Moog Tribute Library


Spectrasonics社から、Omnisphere専用の Bob Moog Tribute Library がリリースされています。 45の音楽家による、2GB、700以上のサウンドが設定された状態なので興味あります。やはり魅力ある音創りは、簡単ではありません。それ相応の知識、センスと技量が必要です。


[to be continue 話の続きが有るよ!ここをクリック!]
SPECTRASONICS Omnisphere


Omnisphere contains more than 14,000 tones, and the tones are amazing!

I wish I had purchased it earlier!

In the old days, it took time to create a tone, but nowadays it is difficult to search for a tone.

The music production environment has improved dramatically because the equipment has been updated and the number of sound sources has been increased.

However, it takes time to learn how to use it.

Music is a hobby, but the timbre is professional LOL!

of course! Other sound sources have also been updated.


[to be continue 話の続きが有るよ!ここをクリック!]
Expressive E Touche SE


Touché SE

I could buy a used one cheaply lol.
I only buy second hand.

Very interesting, but I need to learn how to set it up and how to use it.

ブラックポリカーボネート製のタッチプレートスキンの表面、そして上下、左右移動させる事で、あらかじめ設定しておいたソフトウェア音源のパラメーターに変化を与えます。最大3方向の動きを同時に組み合わせられるので設定次第で特殊な効果を得られます。基本は手で操作ですが足での操作も可能ですw

[to be continue 話の続きが有るよ!ここをクリック!]
BOSS SY-1000 GUITAR Synthesizer



Get the SY-1000 Guitar Synthesizer. Of course, I got it cheaply. I used the guitar synthesizer from GR-500. The first GR was a 24-pin connector and a thick cable.

The Roland GK pickup and 13-pin cable have a long history. I was also using VG-88 on the way. Jennifer Button's signature model JB100 was GR compatible, so I've used the guitar.

I also used a custom model that integrates the Roland GK-2A pickup into the Steinberger. Godin Multiac Jazz Synth Electric Guitar was also a good guitar. I have also used the V-Guitar System VG-99.

The Roland MIDI Guitar Controller GC-10 I got at the auction was 5,000 yen. It is easy to use. This is GR only, there is no normal pickup microphone.

Godin Multiac Nylon SA The nylon source of the electric guitar has been replaced. I'm not used to changing nylon strings LOL.

I recently sold the BOSS GP-10 and replaced it with the SY-1000. It is convenient because you can make settings on the Mac side with a USB connection.


[to be continue 話の続きが有るよ!ここをクリック!]
iCON Global PLATFORM M together with the PLATFORM M


しかしデジタル機材は陳腐化が早い!約10年以上使っているので、そろそろサポートが続くかどうか怪しくなってきました。肝心な事は、使い続けたくとも OS から見放されたドライバーやファームでは、使い続ける事は困難です。そこで大改造をしました。これが現在の環境です。大幅に機材を入れ替えています。殆どは旧機材を売却してから中古で手に入れているので差し引きゼロで済んでいます。音楽は、あくまで、仕事ではなく趣味ですからw




I got the iCON Global PLATFORM M together with the PLATFORM M dedicated display at a low price. DAW control surface used to own Euphonix MC Mix MC Control before, but they are all sold. It's been more than 10 years, and there is a risk that they will be out of support.

The set I bought this time was an unbeatable low price of 15,000 Japanese yen. However, only the main body. You will need to download the drivers you need online, but it's an easy task. The firmware is also updated via the Internet and is used comfortably.

Almost all the old equipment was sold at the auction. Since digital devices are becoming obsolete, it is important to always renew and replace them.



[to be continue 話の続きが有るよ!ここをクリック!]
The ZOOM FRC-8 F-Series Remote Controller Mixer


I got the F-Control Mixing Control Surface for the Zoom F8, F8n, F6 and F4 cheaply. I got it for $ 139.35 including shipping. You can control it using the iPad app, but this price is a bargain! It's a little annoying to have to connect by wire. It could also be used with the Pad app.

When using the Pad app, if the old app exists, it will not be recognized unless switched. The ZOOM FRC-8 FRC-8 F-Series Remote Controller Mixer is expensive on eBay. It is rarely exhibited even in Japan. It was a very good bargain. In the analog age, it was impossible to make 8-track, 8-channel outdoor recordings so easy.


[to be continue 話の続きが有るよ!ここをクリック!]
Roland RD-2000 Stage Piano


ピアノの音に関しては本物のグランドピアノと比較して云々、言うような経験は、私自身、持っていないので見た目と、それなりのキータッチと外部音源との使用を考え、そして安く入手できたこともあって、この機材に決めました。そもそもグランドピアノの音やタッチなど基準とする感覚を持っていません。ただペコペコのプラスチック製の鍵盤は嫌なのでw だいたいステージでの使用など無いwので、必要性がない機能もありますが、このクラスの鍵盤が安く手に入ったので嬉しいです。




[to be continue 話の続きが有るよ!ここをクリック!]
ROLAND RD-2000


I bought a used Kurzweil SP2X 12 years ago, but it is so old that I sold it at an auction and got a Roland RD-2000. All instruments are self-taught, so I don't know the feel of the piano keyboard LOL. However, the feeling of this keyboard and the piano sound source are very nice.




Because it was an exhibit, the firmware was old. So I made it the latest version. After cleaning the whole thing, it looks like a new one. I bought the product displayed at the musical instrument store at half price. I don't understand the function yet, so I need to study it.




When I swapped the keyboard and moved the Mac Pro, a lot of dust was collected. I removed the dust inside for the first time in 7 years. I think the firmware is also up to date and I did a good shopping.




I bought it at a big music store so I have a one year warranty. The purchase price was as low as US $ 13,000 in US dollars. The driver also supports Mac OS Catalina.





[to be continue 話の続きが有るよ!ここをクリック!]
LUNA Recording System


Available Now
LUNA Recording System

I installed it immediately.

But there is a problem!
Unable to start...

The problem was, at first, wondering if the iLok License Manager was set up incorrectly. And, with the image of the progress, I contacted support together.

ソフトのダウンロードからインストールは、通常の手順で問題は無いのですが、Universal Audioに登録してあり、なおかつ iLok License も登録してある必要があります。その辺りが問題の解明をしにくくしている原因になりました。



[to be continue 話の続きが有るよ!ここをクリック!]
The Dark Side of the Moon


The Dark Side of the Moon is the eighth studio album by English rock band Pink Floyd, released on 1 March 1973 by Harvest Records. Primarily developed during live performances, the band premiered an early version of the record several months before recording began. New material was recorded in two sessions in 1972 and 1973 at Abbey Road Studios in London.


[to be continue 話の続きが有るよ!ここをクリック!]